If you read the 'small print' on the previous page What We Do, you will have picked up that we meet every other week, give or take a few breaks around Christmas and the New Year period.
Meetings begin at 8pm and are held on alternate Wednesday evenings at :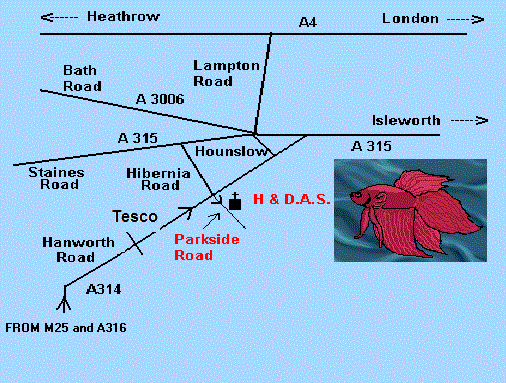 St Stephens Church Hall, Parkside Road, Hounslow, Middlesex TW3 2BP
Parkside Road can be found on the left, as you leave Hounslow, heading south-west on the A314


Details of our next meeting date, and Society activities please contact our Secretary:




Greg Casson. You can reach him by phone on 07989 565667
or by email gregcasson@hotmail.co.uk
Alternatively, check out our Calendar of Events link below.
---
Hounslow's Recommended Top Shops
Which Fish to Keep?

TRY THE HOUNSLOW LUCKY DIP
SLIDE SHOW EXPERIENCE!
---
Last updated October, 2019

You can contact us for latest Hounslow Society information at